Junior Golf at Harewood Downs Golf Club
Golf for Juniors (aged 18 or under), or Cadets as they are known within the club, are a thriving section that operate in a fun yet competitive manner. HDGC has a great track record of developing young golfers in a sport which can be played for a lifetime whilst introducing them to an environment where adults participate at the same time. Golf teaches participants the importance of etiquette and sportsmanship whilst providing all the benefits associated with a physical activity within a safe environment.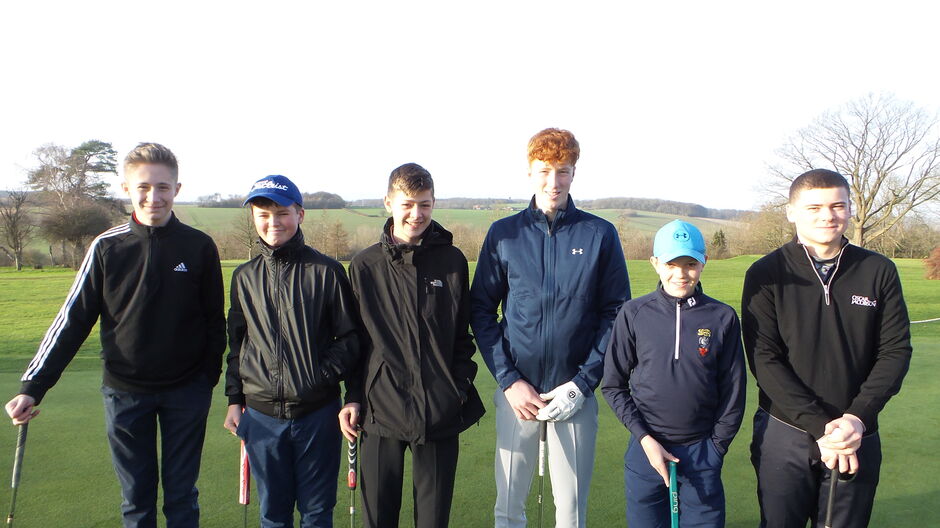 What We Have To Offer:
Junior members benefit from excellent coaching delivered by our PGA Professionals Geoff Morris and Evie Ing. Their goal is to enhance your ability as quickly as possible ultimately enabling players to achieve a club handicap. Upon attainment of a handicap, Juniors are able to join competitions with other Juniors and eventually the main club. With the development of Social Media platforms we utilise a 'Juniors Only' Whatsapp group to aid our communication (Parents and Guardians have access). We use this media to organise coaching sessions, tee times, competitions and social play. The Club 's website provides relevant updates for all information that is not able to be shared via the social media platform.
The Golf Course:
The course at Harewood Downs provides Juniors with the oppotunity to learn every type of shot required to become an 'Elite' golfer. In fact our Juniors tend to play to a higher standard when playing at other courses or participating in competitons with other golfers. There is no greater way of highlighting this than when our Junior Team became England Junior Champions in 2008. Two members of that team went on to play in the 2018 PGA qualifying tournament with three members of the team currently attempting to turn Professional.

Development Structure:
Our development structure allows those with the desire to reach any stage in golf, from the complete novice through to becoming an elite player. We have outlined a progression route as below:
Pre-handicap - for players new to the game who would like to learn the basic key skills. The aim of this group is to develop individuals and achieve an official handicap of 54.
High-handicap - Once players have attained an entry level handicap, they are welcomed onto the course accompanied by an adult, they are encouraged to play regularly and start lowering their handicap.
Bronze Division - Players are now becoming independent golfers with handicaps ranging from 21 - 36 (female) and 21 - 28 (male). Once this standard has been achieved, we suggest they play the course with reduced adult guidance. The more advanced golfers within the group will be assisting fellow players.
Silver Division - Handicaps are now between 10 and 20. Players are now encouraged to play in the main club competitions and are eligible to play in County competitions. Players reaching this level are encouraged to focus on practice sessions and strive towards achieving a single figure handicap.
Gold Division - 'Home' HDGC Juniors who attain single figure handicap status have their subscription fees paid for by the club. Elite players also enjoy the extra benefit of 'free' coaching as part of the scholarship package.
Safeguarding:
It is the responsibility of Harewood Downs Golf Club to ensure the welfare and safety of all Juniors participating at our club. The HDGC Welfare Officer will liaise with England Golf to ensure any concerns are dealt with. Please view our Child Protection Policy .
When applying for membership HDGC insist that the Junior Golfer's parent or guardian completes a consent form agreeing to abide by our Code of Conduct .
Now all that is left to do is complete an APPLICATION FORM and get started.
Membership Fees
| | |
| --- | --- |
| Cadet (16 to 18) | £255 |
| Cadet (12 to 15) | £220 |
| Cadet (up to 11) | £180 |